Calibration and Validation of KhalifaSat images
The aim of this project is to learn and apply KhalifaSat Calibration and Validation (Cal/Val) activities in order to capture good quality images according to the system requirement. This project was done under direct supervision of the image processing team at MBRSC.
The geometric calibration process relies solely on updating the sensor parameters through three main steps: Attitude Bias Estimation (ABE), Focal Length, Line of Site (LOS).
The validation Process consists of validating the quality of the satellite images and verifying that they meet the system requirements.
KhalifaSat Cal/Val Activities include:
Modulation Transfer function (MTF)
Signal-to-Noise Ratio (SNR)
Focal Length [data analysis and parameters update]
Line of Sight[data analysis and parameter update]
Attitude Bias Estimation[data analysis]
MTF kernel generation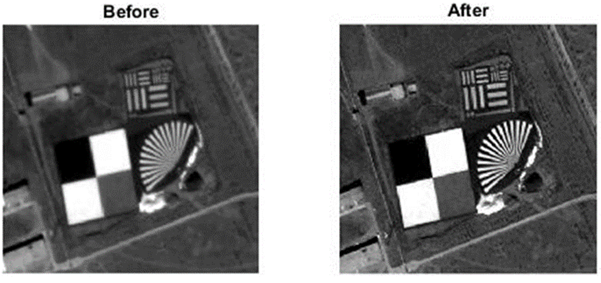 Target image before and after applying MTF kernel